Ian Williams lives with his beautiful family in Perth (Australia). Together with his wife Jodi, their daughter Abbey, 2 dogs of which one is in training for epilepsy, 2 cats and 2 goldfish they offer their son Ben, who suffers from medication resistant epilepsy, a warm cocoon. With only one focus: to give Ben the best possible quality of life, despite the many obstacles he encounters in his path.

Relentless alertness
Ian testifies: "When our son Ben had his first tonic-clonic seizure in 2013 - he was 22 months old - a 'before' and 'after' were marked forever in our lives. Numerous focal, generalized and absence seizures followed. The use of emergency medication and visits to emergency services became a harsh reality."
"Post-seizure it happens all too often that Ben loses previous skills. At times like these, he needs help with everyday activities such as walking, expressing himself, hygienic care... It takes a lot of energy to respond to this time and again. Fortunately, we can count on help from family, neighbors and friends."
"The heightened state of alert — 'Is Ben, now, here, having a seizure and how serious will it be?' - is also taking a toll on our family. Although our family assists us as much as possible, it seems difficult for them to imagine what this relentless alertness does to you."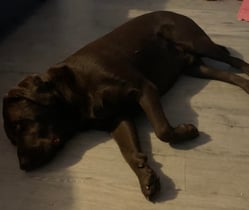 An average of 10 to 20 absences per day
"Over the years, Ben's seizures evolved. Today it is mainly his absences - he has an average of 10 to 20 per day - that dominate. We're trying to support Ben as much as we can, using tools and even Radar, our epilepsy dog."
"Thanks to the non-profit organization Epilepsy WA we got to know epihunter. They gave us basic information about the device and showed us the way to purchase it. By the way, they assist us in many other areas and we are very grateful to them for that."
Epihunter makes the invisible visible
"Epihunter already brought us a lot of insights. For example, we learned that Ben has more absences than we suspect. Epihunter helps us to visualize, as it were, seizures that cannot be seen with the naked eye. Not even for us."
"We are building up the time that Ben wears epihunter more and more. This way, the device can be used during the lessons next school year. And that way, Ben's school team can tailor the care even better to Ben's needs. We are convinced that the neurological report that we will use during the next neurological consultation will also have an important added value. Among other things, in optimizing Ben's treatment plan."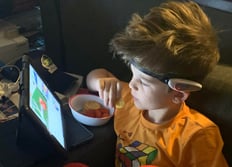 "Usually Ben asks himself to wear epihunter. His sensitivity, which increases even more on difficult days (pre/post seizure), makes him prefer not to put the device on for long periods of time. Fortunately, there is the epihunter team, with Tim in the lead, that is attentive to our comments and questions. Their support is admirable. "
"I advise other parents not to hesitate about using epihunter. After all, it is the only device that is able to detect absence seizures. Epihunter, in combination with other tools, contributes to better care for our son."